Apartamento
MAESTRANZA 3.[CONJUNTO 2 LLAVES]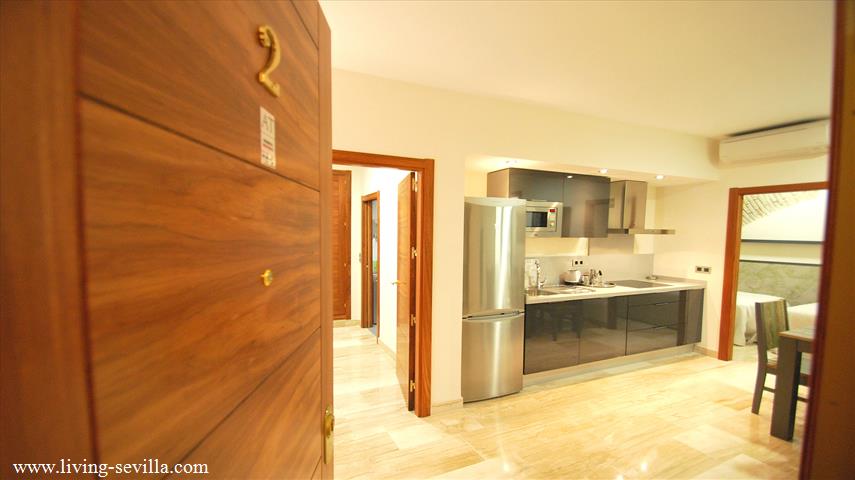 ---
Characteristics:
---
Descrição
Brand new apartment in a building with history and origin of the nineteenth century, situated in the neighborhood of el Arenal, next to the Plaza de Toros de la Maestranza. Ideal for couples, families and groups of friends. One will find all of the most important locations just in a walking distance: the Cathedral and Giralda Tower, the Alcazar, Santa Cruz neighborhood, City Hall and Plaza Nueva, the Archive of the Indies, the Golden Tower, Paseo de Colón, Triana neighborhood, Museum of Fine Arts, shopping area ... Excellent place to enjoy the Holy Week celebrations, bullfighting and April Fair.

The building is listed and protected by the "Special Protection Plan of the Historic Seville". The original facades and type of covers has been respected, original colours has been recovered and its interior is following a special organizational scheme and a historic style. Some of the original elements of the building (from the period it has been builded in) has been left. Built with a high quality materials: marble floors, double glazed windows and balconies, noble wood interior carpentry, designer bathrooms. All of the rooms are air conditioned and equipped with designer furniture and other assets needed for a comfortable stay of our guests: fridge, freezer, hob, microwave, washing machine, coffee machine, kettle, toaster, blender, juicer, cutlery, crockery, television with satellite (international channels), free wifi, bed linen and towels, hairdryer and safe.

The apartment is located on the second floor and has a big living room with two balconies to the street and a double sofa bed, kitchen-dining area, spacious master bedroom with two twin beds, bathroom with a shower and a balcony to the street. Secondary bedroom has two single beds and a bathroom with a shower.
---
Número mínimo de noites: Mínimo de dias de antecedência:
Existe um conflito com uma reserva existente.
Serviços ADICIONAL
Berço
Mascote
Parking
Transfer
Limpeza
Nome:
Subject:
Comment:
Error en solicitud.
Telefone
E-mail:
Validação:
The request has been sent, you will receive an answer within 24 hours.
PREÇO TOTAL reserva:

?

€
(
?

€

/ Pessoa/Noite

)
Total de noites estadia:
Dia de chegada
Dia da partida
Total pessoas:

Cálculo...

+

X

:

Cálculo...

€ x Noites = €

Alojamento de mascote

Cálculo...

€ x Noites = €

Parking

Oferece economia:

€
PREÇO TOTAL:

Cálculo...

€
Reservas montante a pagar agora

Cálculo...

€
Montante do pagamento na chegada

Cálculo...

€
Depósito de danos (reembolsável)
+

Cálculo...

€
Dados de clientes
E-mail:
E-mail: *
Nome:
Password
Telefone:
Validação:
Bem-vindo
Login inválido
Método de pagamento
Cartão de crédito PayPal Telefone Transferência bancária
We have sent you the pre-reservation with the bank account details and the amount that you must pay to formalize the reservation.
It is necessary to send a copy of the transfer
We do not reserve the accommodation until we have received the copy of the transfer.
Once we have received your payment an e-mail is sent to you with the booking confirmation.
It is necessary to review your details to complete the reservation. Make sure that the details are correct....
Nome:.:
Sobrenome:.:
E-mail:.:
Telefone.:
ID / Passport.:
Birth Date.:
City.:
Country.:
Booking information :
Thank you.
Failed to save.